Have a question? You may find an answer here!
What does "C'est Si Bon" mean?
It means "IT'S SO GOOD" and we hope you agree!
Where are you located?
We are located at 1375 Blossom Hill Road, Suite #38 in Princeton Plaza.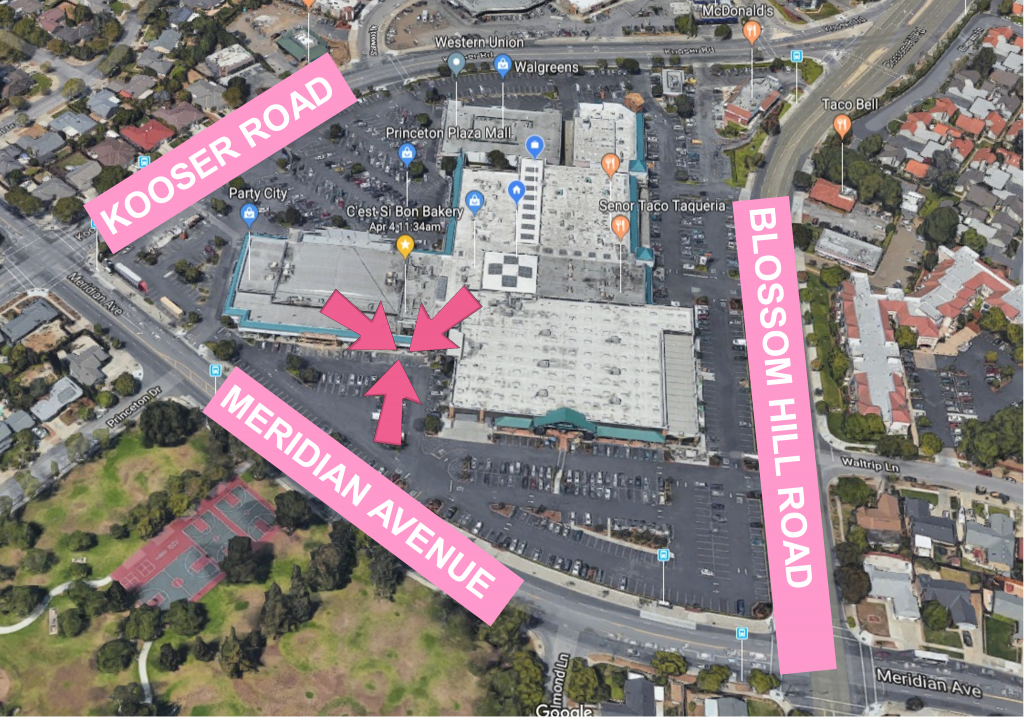 What are your hours?
Monday: CLOSED
Tuesday-Saturday: 10am-6pm
Sunday: 10am-2pm
We do close for certain holidays, such as July 4th, Thanksgiving, Christmas, around New Years, and Persian New Years.
Are you on social media?
Yes! You can find us on Instagram, Facebook, and Yelp!
We usually have 1 giveaway a week on both Instagram and Facebook, so it's a good idea to follow along!
How much does a cake cost?
Cake pricing is determined by the amount of servings needed, the flavor, and the design of the cake. We can help calculate the total price once we know the estimated guest count by using a reference photo that you provide via email or in person.
How soon do I have to order?
We ask for orders to be placed with a minimum of 7-14 days notice. The busiest time of the year for us is between April-September, and during this time we highly recommend at least 2 weeks notice for placing orders. Orders placed with less than 7 days notice are subject to a minimum $10 rush fee.
How can I place an order?
In order to place an order, we will first need to get you a price quote.
You can obtain a price quote by submitting a preliminary cake quote order form using this link.
Once you submit the online form, we will get back to you within 72 hours to let you know if we are available and if so, what sizes and pricing we can offer for your idea.
We can also get you a price quote in person if you prefer.
Once you have received a price quote, you can place the official order by confirming the details with a rep and by leaving a 50% non-refundable deposit over the phone or in person.
When are the best days to place an order?
Weekdays are the best days to place orders, as we have many pickups during the weekend.
During the weekends, we prioritize cake/order pick-ups first in order to make sure guests get to their parties on time.
Do you offer cake tastings?
While we do not offer sit-down cake tastings/consultations in the store, you can order cake samples for $4 each with at least 24 hours notice. Alternatively, we have 6-8 flavors of cupcakes in the store for $4 each that we carry daily.
We are also happy to give  you spoonfuls of some of our fillings over the counter any time we are open!
Do you offer delivery?
We are able to deliver cakes and other goodies for a $50 + $2/mile fee, up to 50 miles. Some locations are restricted due to traffic or based on our delivery schedule.
How can I transport a cake? Is it safe?
All of our cakes will come in a white or cardboard box depending on the size/height of the cake.
Stacked cakes and sheet cakes alike should be placed in the flattest part of the car.
This might be the floorboard of the front seat, the trunk, or a lap of a passenger. We do not recommend stacking boxes, or having them sit on a slanted surface such as the car seat itself as it may cause damage from the angle.
Taking sharp turns and braking quickly can damage cakes, so we always recommend driving with caution
Stacked cakes are all built with a support inside of the cake – this support is made up of plastic pillars (4 per tier) and one long, thin wooden dowel that goes throughout the entire cake, acting as a spine.
Once something leaves the bakery, we cannot be responsible for any damaging that occurs during handling/transit/from the weather.
How do I serve a cake?
While cutting a rectangular or square cake can be pretty intuitive, cutting round or stacked cakes can be a bit trickier.
We recommend separating the tiers (keep in mind that there are plastic pillars + a wooden dowel going through the entire cake) and then cutting the cake as instructed in the video below:
Do you have ready to go items in the store?
Yes! Click this link here to view our daily offerings.
Do you offer custom cookies or custom cakepops?
While we specialize in custom cakes and cupcakes, we do not offer custom cookies or cakepops.
We recommend "I Dream of Cookies", "Playing with Dough", and "@cookie.chic" for custom cookies.
We recommend "Vy Passetti" for custom cakepops.
Do you offer egg-less, gluten free, sugar free, or dairy free cakes?
Unfortunately we are not set up to create such specialty recipes, so our recipes will include eggs, dairy, sugar and gluten at all times.
Can you make the cake less sweet?
Since we make our cakes, fillings, and icings in large batches, we cannot alter the sweetness of any of our items.
What is the difference between whipped cream, buttercream, and fondant icing?
Whipped cream is a light, dairy based cream that is lightly sweet. It requires refrigeration, and cannot be used for customization as it is very soft.
Buttercream is a sweet vanilla cream that is our most common icing. It is heavier and sweeter than whipped cream, but holds color and decorations very well. It tends to have small imperfections like air bubbles and some streaks from the tools we use to ice the cakes. Buttercream cakes tend to have sharper edges.
Fondant icing is a heavy, thick sugar paste that is rolled out into a thin layer and wrapped around the cake in one piece. Fondant cakes tend to have rounded, smooth edges compared to buttercream. Most of our custom designs are actually hand-made out of sugar paste and dried, making them easy to handle and fix onto a cake.
Most of our custom cakes in our galleries are a combination of both buttercream icing with fondant decorations.
Some designs require either buttercream or fondant icing, which we can determine once we are giving a price quote.
Do you offer any kind of discounts or price breaks?
We have an active Groupon available by clicking this link HERE. You will need to make sure your credit card is linked to your Groupon account, claim the Groupon deal, then make your purchase with that same credit card.
We also offer a "loyalty card" which you can earn hole-punches on with each purchase. For 3 stamps, we will treat you to a free coffee. 6 stamps earns you a pastry from our pastry case, and 9 stamps gives you $10 off a future purchase of $50+.
We do release special deals and discounts to our exclusive CSB fans – you can join our newsletter by signing up using this form here!
Can I work at C'est Si Bon?
We are always looking for new talent to add to our team of highly creative individuals! Fill out this questionnaire here and we will get in touch if we think you'd be a good fit!